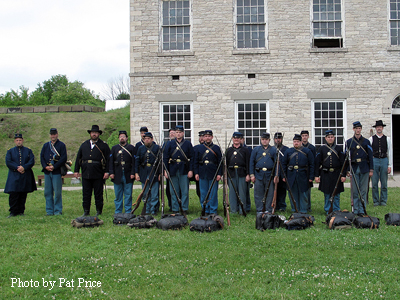 Civil War re-enacting is the hobby of taking on the role of a person living in the Civil War. That can mean dressing, eating, camping and - in the case of soldiers - marching, drilling and fighting like people who lived in the Civil War era.
Michigan has a robust community in this hobby. Clubs exist across the state portraying Union and Confederate soldiers, members of the infantry, cavalry and artillery as well as special soldiers such as sharpshooters and marines. There are large numbers of people who dedicate their time to telling the story of the homefront and civilian life back in Michigan while the soldiers were away. Some groups take their impressions very seriously. Others not so much so. If you look to make this your hobby, chat with members of several groups. Find out about them and pick the one that will work best for you!
The hobby has a full schedule each year. Though the majority of the events take place between spring and fall, many groups continue to meet separately year round. Like any other social organization, one can expect to meet people with similar interests. Life time friendships are often formed in this hobby!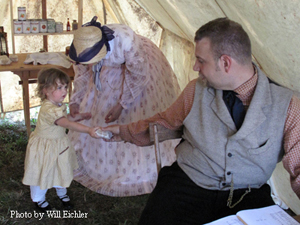 The role of our website isn't to give you answers to all your questions about how to be a re-enactor or who to join. We are here to be a resource for you to find out who to ask the questions to. Below is the most up to date list of groups in the state, web links where possible and a brief description. The units are listed in numberical order. Groups taking the impression of Michigan soldiers are listed first - all others after.
Michigan's Union Re-enacting Groups
| | | |
| --- | --- | --- |
| 3rd Michigan, Company F | Based in the Grand Rapids area, this very active group of military and civilian re-enactors portrays the earliest regiment raised in western Michigan. The 3rd was also called the "Grand Rapids Grays" when it was formed in 1861. | www.3rdmichigan.com |
| 4th Michigan, Company A | A family based organization representing one of Michigan's most photographed regiments, the 4th has membership across Southeast Michigan. They also have a strong civilian organization as part of their membership. | No website available |
| 5th Michigan, Company K | Based in Bay City, this mid-Michigan group re-creates men from one of two companies raised for the 5th out of the Saginaw area. Members live across the state from the Saginaw Valley to Detroit to Battle Creek regions. The 5th's members are part of the progressive community, offering additional opportunities for differents styles of re-enactments. However, they have no civilan organization attached to them. | www.unionreenactor.com |
| 5th Michigan Band | Have an interest in music? This re-enacting group performs Civil War music on period intsruments. They have members ranging from central to southeastern Michigan. | www.mi5th.org |
| 7th Michigan, Company B | Based in Lansing, this group of military and civilian re-enactors are often asked to organize state sponsored events. They are the lead re-enacting host of the Jackson, Michgian re-enactment has been around for almost 30 years. | www.7thmichigan.us |
| 10th Michigan | A small group of re-enactors based in the Mount Pleasant area. They provide a living history camp in Rochester, MI each Memorial Day weekend. | www.tenthmichiganinfantry.com |
| 14th Michigan | | No website available |
| 15th Michigan, Company B | Based Northeast of Detroit, this club tells the story of one of Michigan's regiements which served in the Western Theater. The 15th helps host several small events in their region and are very active in parades and supporting current veterans. | www.15thmichigan.us |
| 17th Michigan, Comany E | One of Michigan's oldest re-enacting clubs, the 17th MI re-enacting club is very active in historic preservation. They have been recognized by the CWPT, a national Civil War preservation organization, for these efforts. They have both military and civilian members. | www.17micoe.org |
| 21st Michigan, Company H | A group dedicated to telling the story of a regiment who had many different experiences in the western theater from the battle of Perryville to the end of the war. Based in southeast Michigan, they also have a very active and vital civilian component. The 21st spends a lot of time in schools in the are each spring. | www.twentyfirstmichigan.org |
| 24th Michigan | Known as part of the famous "Iron Brigade," of course the 24th Michigan is re-created. Members of this group don't represent one specific company, rather the regiment generally. Based across the state, they also have an active civilian membership. | www.24thmichigan.org |
| Michigan Cavalry Brigade | The Michigan Cavalry Brigade takes the field representing troopers from the 1st, 5th, 6th and 7th Michigan Cavalry regiments. These are the famous "Custer's Wolverines." The brigade tells their story with both a mounted and dismounted contingent as well civilians. Their only web presence is on Facebook. | No website available |
| Battery D, 1st Michigan Light Artillery | Based on the west side of the state, this long standing group has soldiers and civilians - and cannon! | www.batteryd.com |
| 3rd Battery, 1st Michigan Light Artillery | Based in the Battle Creek area, this group portarys another battery from the 1st Michigan Light Artillery | www.3battery.org |
| Hudson's Light Artillery | Based in the Saginaw Bay Valley area, this group of soldiers and civilians escorts an original 1841 six-pound smoothbore cannon into the field. They are very active in education and historic preservation activities at Historic Fort Wayne. | No website available |
| 102nd USCT, Company B | Telling the story of Michigan's only colored regiment, the men and women of the 102nd USCT work tirelessly to bring their story to the public through re-enactments as well as a significant static display. | No website available |
| USSS | | No website available |
| US Michigan Marine Guard | | No website available |
| 19th US Infantry, Company B | The 19th US Infantry was the first Federal infantry to garrison Fort Wayne (now Historic Fort Wayne). This small re-enacting organization takes their name from that unit. Modern members are extremely active with preservation and education efforts at Historic Fort Wayne. | www.angelfire.com/mi/19usinf/ |
| Sally Port Mess | The Sally Port is the entrance to a Fort. A mess is a small group of soldiers who eat together when on campaign. In the hobby, a mess is a smaller group of dedicated members. The Sally Port Mess can tailor their impressions to tell the story of whoever they choose to portray, from soldier to civilian. They are a member of the progressive movement in the hobby as well. Members are extremely active with preservation and education efforts at Historic Fort Wayne. | www.sallyportmess.itgo.com |
Confederate Re-enacting Groups in Michigan
| | | |
| --- | --- | --- |
| 4th Texas | Portraying a regiment from Hood's famed Texas Brigade, this family friendly unit has member who portray both military and civilian roles. They are based in southeast Michigan | www.fourthtexas.org/home |
| 5th Texas, Comany E | Based in southeastern Michigan, this family oriented group portrays another of the Hood's Texas Brigade. | www.5thtexascoe.com |
| 8th Arkansas | Based in the Port Huron area, this group is very active in school and public presentations. | |
| 9th Kentucky, Company C | Portraying a company of a western Confederate regiment, this group is active across Michigan. They also have an active drum corp. | www.orphanbrigade.org |
| 12th South Carolina | This group portrays primarily the 12th South Carolina, though they also portray the 4th Michigan when needed. There is excellent information here on both regiments! | http://www.civilwarlives.org/ |
| 14th Louisiana | | No website available |
| Bledsoe's Battery | A group with soldiers and civilians that tells the story of life in a Confederate Artillery battery. | No website available |