Gettysburg is easily the most well known of the Civil War battlefields. It is arguably the high water mark of the Confederacy in the Eastern Theater. Over three bloody days, over 50,000 Americans were killed, wounded or went missing.
It was at the dedication of the National Cemetery there in November, 1863 that President Lincoln gave his famous Gettysburg Address. The battle has endured in the American memory. Starting in 1889 Michigan erected monuments at the Gettysburg battlefield to remember the Michigan men who served there.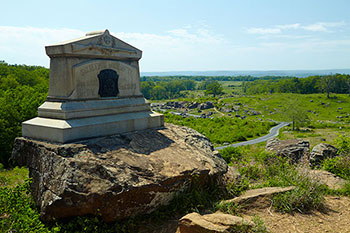 Following, you will get a chance to see all those monuments. However good the photography may be, there is no comparison to standing in front of these impressive memorials and taking them in for yourself. We will post pictures here. Enjoy them. But also use them to help plan your trip. There is so much to see in Gettysburg and this will help you see the places where Michigan men fought, bled and died.
All photos here will be displayed numerically by regiment number. We will start with infantry, next sharpshooter, then cavalry and finally the artillery.
If you are looking for a specific regiment, these quick links will jump you down the page to their monument.
1st Michigan Infantry
3rd Michigan Infantry
4th Michigan Infantry
5th Michigan Infantry
7th Michigan Infantry
16th Michigan Infantry
24th Michigan Infantry
Michigan Sharpshooters
Michigan Cavlary Brigade
9th Michigan Battery - Battery I